Setiap wanita akan bertanya soalan dibawah apabila ingin keluar untuk majlis makan malam atau pergi minum..
Dimana nak letak handbeg?Diatas lantai?? pasti tidak!!semestinya bukan ditempat yangada kuman yang berterbangan sejak kebelakangan ini.
Dibelakang kerusi? tidak!! nanti diambil pencuri..
Diatas riba? tidak!! tempat yang paling tidak selesa..
Jika anda menghadapi masalah yang sama, jangan risau!! Pursepaldapat membantu..sangat praktikal,mengikut fesyen terkini,dandapat menyelesaikan masalah setiap wanita..
.: Purse Pal :.Purse Pal lah jawapan untuk soalan anda!! Penyangkut beg kamiyang comel akan menjadi penggantung handbeg anda.Hanya letakkanbulatan pursepal diatas meja dan pad yang tidak mudah tergelincirdibawah bulatan pursepal akan memegang handbeg anda secara selamatdisebelah anda dan bukan diatas lantai yang kotor!!
Mudah digunakan kan!!Biar Purse Pal buatkan kerja menjaga beg duit cantik anda!!
Duduk dan nikmatilah makanan dan minuman anda!!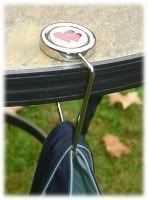 Pos Laju Rate :Semenanjung Msia RM6Sabah & Sarawak RM8
Bayaran ble di buat melalui http://www.maybank2u.com.myatau http://www.cimbclicks.com.my
Nama : Mohd Hazim Bin Mohd ZuhuriCIMB acc : 14210066474528
Nama : Pursepal EnterpriseMaybank acc : 564799106764
Sila email utk pertanyaan lanjut ke purse_pal@yahoo.com @ YM : purse_pal
FAQ
How does it work? Simply place the disk over the edge of any flat surface and hang your purse on the sturdy hook and voila, problem solved!! PursePal fits on virtually any table or counter top and you will have the perfect place to put your handbag!
How does it stay in place? The cushioned slip-resistant pad on the back will keep the PursePal safely in place and gravity will do the rest of the work. The non-slip cushioned pad works well even on glass table tops and tablecloths and it will also provide protection to the table to avoid damage. PursePal will keep your handbag securely next to you and off the floor.
Does it work with any kind of bags? PursePal is a mini hanger that will safeguard any type of handbags, diaper bags and small backpacks.
How much weight can it hold? The stem of the PursePal is made of strong, high quality and durable brass. It has been tested to hold up to 3.5 kg / 7.5 lbs. It is guaranteed to hold up to 2.5kg / 5.5 Lbs.
Is it heavy or bulky? PursePal is lightweight and the sturdy swivel hinge allows it to fold flat and thin when not in use. Compact enough to fit neatly into any pocket, zipper compartment, cosmetic bag and even an evening bag! It comes with a beautiful velvet pouch for easy storage.
How big is it? PursePal is approximately 3.5 inches/9cm long and the medallion is approximately 1.5 inches/4 cm in diameter.
Does it work on every table? PursePal will work on most table tops.
How do I make a purchase? After you made a decision on which design you like. Simply email us to

purse_pal@yahoo.com

Shipping Cost? Shipping costs are calculated as below: Peninsular RM6.00 Sabah & Sarawak RM8.00
What shipping method do you use? All packages will be sent by Pos Laju Malaysia. Delivery time is approximately 1 - 2 working days for Peninsular where else for Sabah & Sarawak delivery time is approximately 2 - 3 working days.
Edited by pursepal, 05 December 2010 - 01:12 AM.